2017 #SEENENOUGHTOBACCODAY
Stafford Middle School and Plattsburgh High School RC Groups
8th graders from Stafford Elementary and RC youth leaders from Plattsburgh High School in Plattsburgh, NY made a display letting their community know they've seen enough. They set the display up on a fence at one of the busiest intersections in town. Their message, "I will not be the average age of a new smoker in NY."
Reality Check students from Northeastern Clinton Central School in Champlain, NY also shared with their classmates enough is enough in the form of a display board located in the busiest section of their school. One student said, "I didn't know the display was about the average age of a new smoker in NY until I read the statistic."
Saratoga, Washington, and Warren RC Youth
Reality Check youth from Saratoga, Warren and Washington counties educated community members about our program at the West Mountain Fall Festival. Students collected signatures of support for the mountain to adopt a tobacco-free outdoor policy so everyone can breathe clean air.
Norwich High drawing attention to the problem of the tobacco industry marketing and how it influences their peers.
Community awareness, stop the tobacco industry and their marketing influence on youth!
RC of Ulster, Dutchess, and Sullivan Counties
TFAC Reality Check of Ulster, Dutchess, and Sullivan Counties hosted a Haunted Store at Headless Horseman Haunted Hayride and Houses in Ulster Park, NY. The store was decorated with Scary facts, cobwebs, and a large tobacco powerwall display featuring a coffin shaped spoof cigarette pack, all illuminated with black lighting. Reality Check members educated visitors about Scary tobacco facts, and helped to get #seenenoughtobacco trending on social media
RC of Ulster, Dutchess, and Sullivan Counties
The venue was visited by 4000 people that night, and Reality Check was successful in reaching hundreds with our messaging. We estimate that there were over 100 social media posts generated with pictures and statements, along with our featured hashtag; #seenenoughtobaccoday. To add to the excitement, we were happy to celebrate with our partners at Headless Horseman, who have adopted a 100% smoke-free policy, which is strictly enforced.
Students in the Bronx declared Friday, October 13, 2017 as the inaugural "Seen Enough Tobacco Day". A day to urge New Yorkers to protect young people from the billions of dollars of tobacco promotions in places where they and other youth can see and be influenced by them. The goal is to put an end to youth smoking and other tobacco use.
Since the recent enactment of the package of tobacco laws this past August, the NYC Smoke-Free team in the Bronx worked with Bronx Borough President Ruben Diaz, to help recognize the newly founded SET Day and highlight the Bronx's continued commitment to NYC's comprehensive approach to tobacco control. Widespread availability of tobacco dangerously normalizes this deadly and addictive product which remains the #1 cause of preventable death.
Students from SUNY Potsdam and Clarkson
SUNY Potsdam and Clarkson students got together and chalked the sidewalks, placed stakes and pinwheels with statistics, and did a cigarette butt clean up throughout the village of Potsdam for SET Day. SUNY Potsdam's Men's Lacrosse team even volunteered in running the event. Their goal for volunteering, to "engage with youth and local community members."
Reality Check of Tobacco-Free Staten Island hosted an educational event with speaker Marie Wilkins from the CDC commercial, tips from Former Smokers commercial. We were presented with a proclamation from Senator Lanza's office deeming Friday 13th as Seen Enough Tobacco Day. Youth and community members had a fun-filled evening learning about recent legislation passed by city council and unmet needs and active role individuals can play in tackling the impact of tobacco.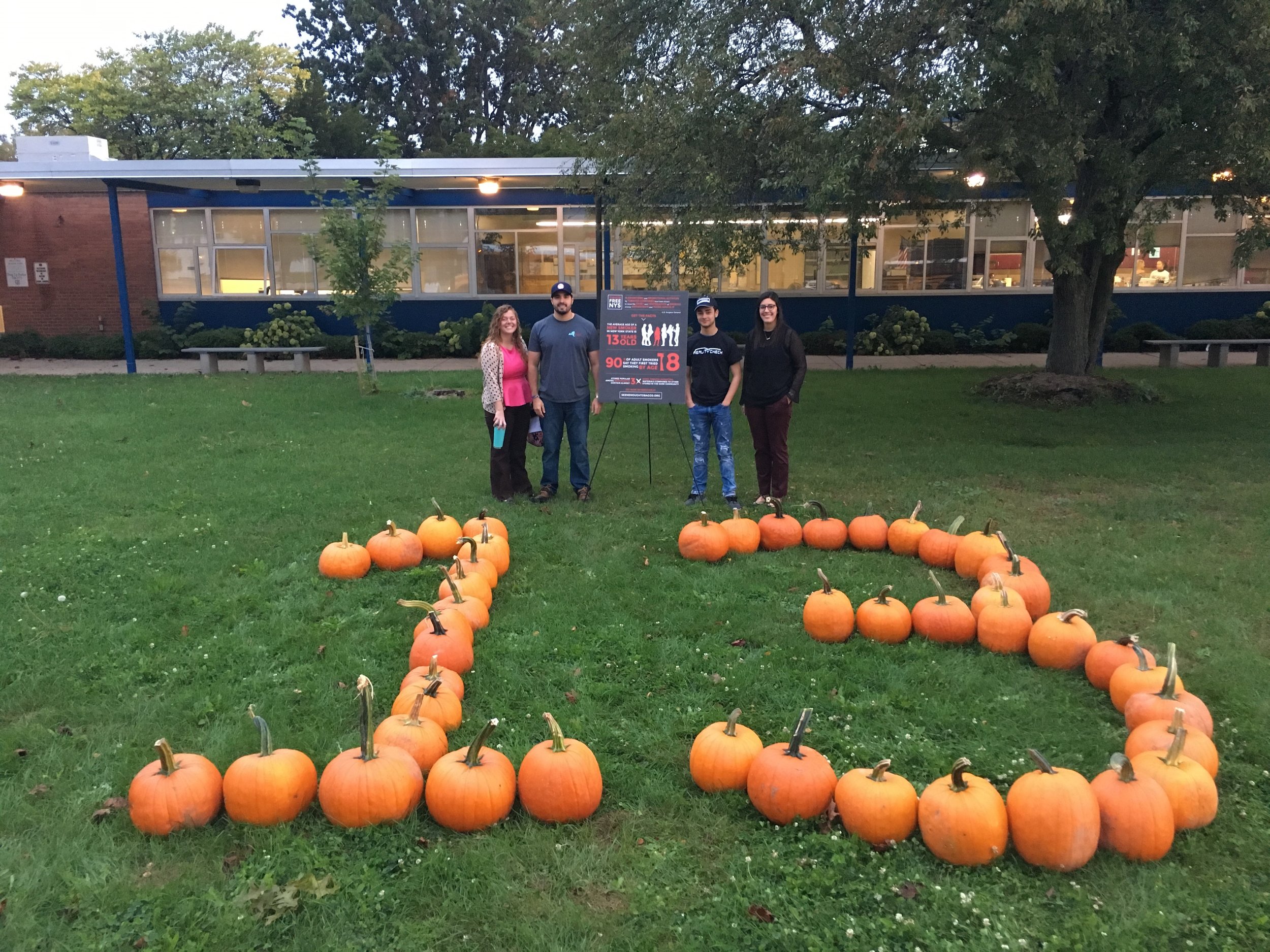 Reality Check Youth and RCYM gathered over 50 pumpkins to create a visual display of the number 13 which represents the average age of a new smoker in New York State.
Reality Check group members and RCYM at Eastridge High School table during the lunch periods and hold a "Trick or Treat" Event with Scary Statistics.
Reality Check youth from Malone Middle School celebrated the first ever #seenenoughtobaccoday by setting up a display in their cafeteria for students to view during lunch. Their message to the school, "We've seen enough."
Allegany's Council on Alcoholism and Substance Abuse Inc's Community Educator Ann Weaver, Fillmore Reality Check youth leader Ada Sylvester, and Fillmore Reality Check Adviser Christina Herman pose in front of their window art for Seen Enough Tobacco Day. The purpose of the art was to build awareness and support for Tobacco 21 in Allegany County.
Reality Check you from both Olean and Filmore took to social media on #seenenoughtobaccoday to bring awareness to the issues of tobacco marketing and youth initiation.
PUTNAM, ORANGE, WESTCHESTER &ROCKLAND Reality Check Youth
Getting ready for the PSA announcement for SET Day 2017.

Reality Check from Mount Vernon on a Tobacco Free Outdoors environmental clean up mission for #seenenoughtobaccoday